You are here
Back to top
Small Bites, Big Nights: Seductive Little Plates for Intimate Occasions and Lavish Parties (Hardcover)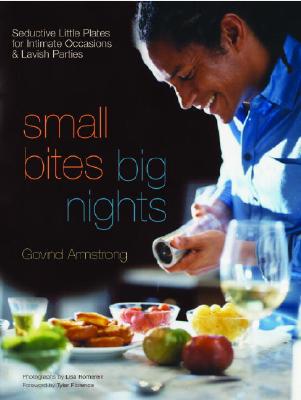 Description
---
Whether he's setting the scene at his acclaimed restaurant Table 8 in Los Angeles, entertaining the audience on Food Network's Iron Chef America, or designing the menus for Hollywood hot-spots RokBar and L'Scorpion, chef Govind Armstrong knows how to create spectacular menus for occasions of all sizes. As Govind says, small plates encourage people to be more adventurous, to share food, and to enjoy the mélange of flavors and textures. In his first cookbook, Small Bites, Big Nights, he shows you how to put together a menu of small, sophisticated, sexy dishes and pair them with the perfect cocktail. The result? Guests get to enjoy a feast of flavors, and as the host, you'll be able to relax and have fun, instead of spending the whole night in the kitchen.

Wow a crowd with hors d'oeuvres like Arugula, Dates, and Parmesan (a salad that's finger food; Rare Tuna Crostini with White Bean Puree and Tapenade; or Seared Kobe Beef on Mini Yorkshire Pudding. To drink: Black Martinis. Barbecue sizzling treats like Grilled Endive with Serrano Ham; New Zealand Scampi with Heirloom Tomatoes and Summer Truffle Vinaigrette; or Grilled Chicken Thighs with Wood-Roasted Gazpacho and Avocado Salsa.

Make dinner for 8 unforgettable with Tender Bean Salad and Prosciutto; a deceptively simple Foie Gras–Stuffed Quail; and luscious Panna Cotta with Raspberry Coulis.

Warm up a cool night with bite-size comfort foods: Mini Onion Soup; Braised Chicken Oysters Piccata; and Carrot Cake with Cream Cheese Mousse.
Praise For…
---
"[This] is everything you're looking for in a cookbook."
—Tyler Florence, from the foreword

"Govind Armstrong's unique cooking style is reflected in every page of this compelling book. The vitality of his recipes ensures that your party will be successful and memorable."
—Drew Nieporent, restaurateur / owner of Tribeca Grill, Nobu,
Rubicon, Centrico, and Mai House

"Chef Govind Armstrong's cooking is sensual and understated."
—Los Angeles Times

"Govind toiled in our City Restaurant kitchen with the serious
exuberance his high school mates reserved for playing soccer
and spin the bottle. . . . It's no wonder his cooking and his recipes are such a joy! His food is simple yet innovative, deeply satisfying, and beckons you to the stove."
—Mary Sue Milliken and Susan Feniger, owners of Border Grill and Ciudad restaurants

"Govind Armstrong embodies all the admirable qualities of a
modern chef: A passion for great products, outstanding culinary skill, and a zeal for life that winds up on every plate and in every heart he touches."
—Richard Coraine, chief operating officer, Union Square
Hospitality Group, New York