You are here
Back to top
How to Publish, Promote, & Sell Your Own Book: The insider's guide to everything you need to know about self-publishing from pasteup to publicity (Paperback)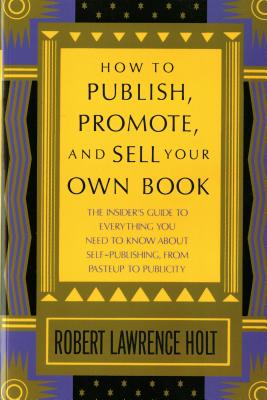 $24.99

Usually Ships in 1-5 Days
Description
---
Robert Holt, himself the successful author of four self-published books, now shares his knowledge and savvy with other would-be author-publishers in this step-by-step guide to every aspect of self-publishing.

If you yearn join the ranks of such self published authors as Henry Thoreau, Upton Sinclair, Anais Nin, and George Bernard Shaw, if you've ever thought of doing it yourself, then this is the book for you. How to Publish Promote and Sell Your Own Book provides you with everything you ever wanted to know about self-publishing--and never even thought to ask.
About the Author
---
Robert L. Holt is the author of How to Publish, Promote, and Sell Your Own Book.
Praise For…
---
"From A to Z, the author covers the realities of book publishing in general (thus helping the reader make the decision to self-publish) and then offers thorough information on manuscript preparation, book design, production vagaries and costs, marketing and promotion, and more..Holt's handy how-to is recommended." —Booklist

"Should not be overlooked by aspiring writer-publishers...[Holt] offers a solid grounding in editorial, production, and marketing basics, and provides tips to aid neophytes avoid common pitfalls. He is especially attentive to the more delicate stages of the self-publication process: how to work with a printer (and save money doing it), create and attractive cover, price the book, etc. The selections on marketing and on selling reprint rights are particularly valuable. Holt's lucid writing and business-like approach will appeal to many." —Publisher's Weekly

"Sprinkled with examples from experience, the advice on editing and preparing a manuscript is direct and concise, as are the checklists and up-to-date formulas for tabulating costs. Sections on how to write query letters, find an agent, get along with an editor, generate reviews and publicity, and negotiate a contract will be valuable to any writer...This book.. surpasses similar works for readability and organization." —Library Journal