You are here
Back to top
Stop Waiting for Permission: Harness Your Gifts, Find Your Purpose, and Unleash Your Personal Genius (Hardcover)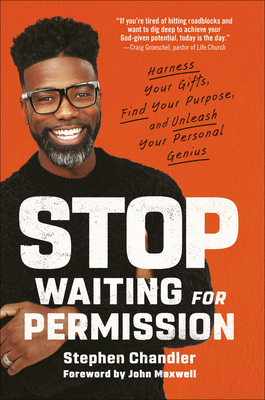 $24.00

Usually Ships in 1-5 Days
Description
---
ECPA BESTSELLER • From the pastor of one of America's fastest-growing churches, this bold, inspiring manifesto will show you how to dream, plan, and ultimately achieve your great calling in life.

"If you're tired of hitting roadblocks and want to dig deep to achieve your God-given potential, today is the day."—New York Times bestselling author Craig Groeschel, pastor of Life.Church

We each have a unique purpose in this life, one embedded within us by the Creator of the universe before time began.

Yet we rarely experience this greatness because the glory of God within us is still waiting to be uncovered. So we spend our lives running after the wrong goals. Eventually we burn out and stop believing that God has any bigger plans for us in light of our past failures and false starts.

However, Stephen Chandler believes God created everyone, including you, for greatness . . . and doesn't want anything to get in the way of that destiny.

In Stop Waiting for Permission, you'll discover the keys to unlock your unique calling and activate your innate, God-given strengths by

• identifying what's holding you back
• discovering your unique genius
• maximizing your God-given greatness
• living in your purpose with perseverance

The time to act is now! Stop waiting for permission.
About the Author
---
Stephen Chandler is the senior pastor of Union Church based in Maryland. Since 2011, Union has grown from a group of fifty to thousands of people in weekly attendance, with tens of thousands joining live online every week. Stephen's obsession with people, systems, and culture resulted in Union Church being named the fastest-growing church in America by Outreach magazine. A sought-after international speaker, he is unapologetic about helping leaders maximize their God-given passion. Stephen's true legacy is his family—his three beautiful children, Zoe, Roman, and Jade—with his wife, Zai.
Praise For…
---
"The same practical, informative, and empowering teaching that my friend Stephen Chandler has shared with live audiences is now at your fingertips. The clarity and wisdom found within this book are like always having a catalytic coach within reach. This is your opportunity to live your best life!"—Bishop Dale C. Bronner, DMin, founder and senior pastor of Word of Faith Family Worship Cathedral and author of Power Principles

"Each one of us has been created on purpose and for a purpose. In Stop Waiting for Permission, Stephen provides essential keys to unlocking the potential that resides within us. He dares us to dream God-sized dreams and offers a road map for realizing them. You will be inspired, challenged, equipped, and empowered to step into your God-given purpose."—Christine Caine, founder of A21 and Propel Women

"So many of us struggle with reaching true and meaningful success. We face delays, obstacles, difficult people, and circumstances that discourage us, often to the point of us giving up. If you're tired of hitting roadblocks and want to dig deep to achieve your God-given potential, today is the day. Let Pastor Stephen Chandler's new book be the catalyst. Stop waiting for permission to achieve your dreams."—Craig Groeschel, pastor of Life.Church and New York Times bestselling author

"How many people have come to the end of their lives with untapped genius, hidden greatness, and unfulfilled purpose? As I read my friend Stephen Chandler's book, Stop Waiting for Permission, I literally felt a new sense of confidence rise up inside me and wondered, Where has this book been all my life? We all need the encouragement, the kick in the pants, and the permission to be just what God created us to be—which Stephen gives us in this incredible book!"—Lori Champion, author of Woman Up and co-senior pastor of Celebration Church in Austin, Texas

"Stephen Chandler is a wildly gifted leader and communicator, and I am so excited for his newest project, Stop Waiting for Permission. Through life lessons and practical steps, Stephen teaches us how to pursue the greatness God has destined for us and how to develop disciplined strategies that will maximize our potential and keep our hearts anchored in Christ. His words will motivate you to push through doubt, worry, and fear so you can realize the potential that God has put inside you."—Tim Timberlake, senior pastor of Celebration Church and author of The Power of 1440

"If this book has found its way into your hands, you are about to be changed for the better. Through this powerful book, Stephen Chandler is giving you all the tools you need to 'harness your gifts, find your purpose, and unleash your personal genius.'"—Dr. Dharius Daniels, author of Our Purpose is Calling: Your Difference is Your Destiny