You are here
Back to top
A Gallery of Harlem Portraits (Paperback)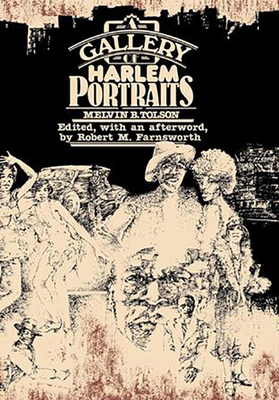 Description
---
A Gallery of Harlem Portraits is Melvin B. Tolson's first book-length collection of poems. It was written in the 1930s when Tolson was immersed in the writings of the Harlem Renaissance, the subject of his master's thesis at Columbia University, and will provide scholars and critics a rich insight into how Tolson's literary picture of Harlem evolved. Modeled on Edgar Lee Master's Spoon River Anthology and showing the influence of Browning and Whitman, it is rooted in the Harlem Renaissance in its fascination with Harlem's cultural and ethnic diversity and its use of musical forms. Robert M. Farnsworth's afterword elucidates these and other literary influences.
Tolson eventually attempted to incorporate the technical achievements of T.S. Eliot and the New Criticism into a complex modern poetry which would accurately represent the extraordinary tensions, paradoxes, and sophistication, both highbrow and lowbrow, of modern Harlem. As a consequence his position in literary history is problematical. The publication of this earliest of his manuscripts will help clarify Tolson's achievement and surprise many of his readers with its readily accessible, warmly human poetic portraiture.
About the Author
---
About the Author
Born in Moberly, Missouri, Melvin B. Tolson (1898-1966) was one of the outstanding poets of the twentieth century, the author of three books of poetry as well as several novels, dramas, one-act plays, and a newspaper column. A Professor of English and Drama at Langston University, Langston, Oklahoma from 1947 to 1965, Tolson's work won the Annual Poetry Award of the American Academy of Arts and Letters in 1966.
About the Editor
Robert M. Farnsworth is Professor Emeritus of English at the University of Missouri-Kansas City. He has published numerous scholarly articles and poems and is co-editor of Richard Wright: Impressions and Perspectives.
Praise For…
---
"A very valuable contribution to the relatively sparse literary scholarship about a poet whom other poets have praised highly for his achievements in poetry, and about a poem for which there is far too little critical commentary."—MELUS