You are here
Back to top
Snakes in Suits: When Psychopaths Go to Work (Compact Disc)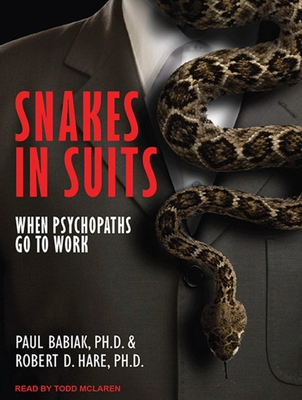 Description
---
Let's say you're about to hire somebody for a position in your company. Your corporation wants someone who's fearless, charismatic, and full of new ideas. Candidate X is charming, smart, and has all the right answers to your questions. Problem solved, right? Maybe not. Psychopaths may enter as rising stars and corporate saviors, but all too soon they're abusing the trust of colleagues, manipulating supervisors, and leaving the workplace in shambles. In Snakes in Suits, corporate psychologist Dr. Paul Babiak teams up with psychopathy expert Dr. Robert Hare to focus on the psychopath's role in modern corporations. They found that it's exactly the modern, open, more flexible corporate world that is the perfect breeding ground for these employees. Snakes in Suits reveals psychopaths' secrets, introduces the ways in which they manipulate and deceive, and helps listeners see through their games. It is a compelling, frightening, and scientifically sound look at exactly how psychopaths work in the corporate environment, teaching you how they apply their instinctive manipulation techniques to business processes. It's a must listen for anyone in the business world, making you aware of the subtle warning signs of psychopathic behavior-before it's too late.
About the Author
---
Paul Babiak, Ph.D., is an industrial and organizational psychologist whose work has been featured in publications including the "New York Times," the "Washington Post," and the "Harvard Business Review." Robert D. Hare, Ph.D., is a professor emeritus of psychology at the University of British Columbia, Canada, and the first recipient of the R. D. Hare Lifetime Achievement Award from the Society for the Scientific Study of Psychopathy.

Former radio broadcaster Todd McLaren has been heard on more than 5,000 TV and radio commercials; narrations for documentaries on such networks as A&E and the History Channel; and films. His book narrations have earned him a prestigious Audie Award as well as a "Publishers Weekly" Listen-Up Award.
Praise For…
---
"Clear and complete, this is a handy overview for managers and HR, with enough "self-defense" techniques to help coworkers from getting bit." ---Publishers Weekly