You are here
Back to top
Thursdays and Every Other Sunday Off: A Domestic Rap by Verta Mae (Paperback)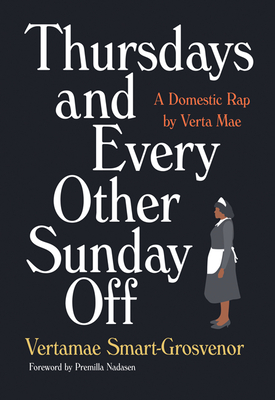 $16.95
Usually Ships in 1-5 Days
Description
---
Observations from the lives of African American domestic workers—back in print

Thursdays and Every Other Sunday Off is an exploration of the lives of African American domestic workers in cities throughout the United States during the mid-twentieth century. With dry wit and honesty, Vertamae Smart-Grosvenor relates the testimonies of maids, cooks, child care workers, and others as they discuss their relationships with their employers and their experiences on the job. She connects this work with popular culture, presenting Aunt Jemima, Mammies, Uncle Ben, and other charged figures through the eyes of domestic workers as opposed to their employers, and remembers her own family history (her mother and grandmother were domestic workers after migrating to Philadelphia from South Carolina). Interspersed with musings and interviews are historical references, quotations, and personal anecdotes that make this account all the more intimate, heartbreaking, and relevant. 
About the Author
---
Vertamae Smart-Grosvenor (1937–2016) was an American culinary anthropologist, griot, food writer, and commentator on National Public Radio. She wrote several books on African American cooking, including Vibration Cooking: or, The Travel Notes of a Geechee Girl, an autobiographical cookbook and memoir. 
Premilla Nadasen is professor of history at Barnard College, Columbia University, and author of Household Workers Unite, Rethinking the Welfare Rights Movement, and Welfare Warriors; as well as coauthor of Welfare in the United States.
Praise For…
---
"I was fortunate to read Thursdays and Every Other Sunday Off when it was first published and to know its author, Vertamae Smart-Grosvenor, well. The book impressed me mightily then. Now, almost half a century later, it remains an amazing work. Humorous and heartbreaking in equal measure, this is Smart-Grosvenor at her tale-telling best, and her voice resonates as though the reader is sitting down with her. It is also an eye-opener, combining history, personal recounting, poetry, and more. After reading it, you'll never think about domestic work the same way again."—Jessica B. Harris, author of My Soul Looks Black: A Memoir
"Thursdays and Every Other Sunday Off is an unforgettable volume that chronicles the experiences of black women domestic workers 'in service' to white employers. Vertamae Smart-Grosvenor's masterful storytelling weaves interviews, poetry, history, news reports, bits of memoir, and humor together with critical observations about the nature of everyday racism."—Melissa Cooper, author of Making Gullah: A History of Sapelo Islanders, Race, and the American Imagination
"Vertamae Smart-Grosvenor was the ultimate storyteller."—Premilla Nadasen, from the Foreword
"By turns informative, witty, enraging, and heartbreaking, storyteller Smart-Grosvenor's Domestic Rap tells it like it is for domestic workers of color. "Is," is the operative word. Originally written in 1972, reissued by the UMN Press, the book, alas, cannot be taken as a quaint history of a bygone past." —Lavendar