You are here
Back to top
The Family Business 5: A Family Business Novel (Hardcover)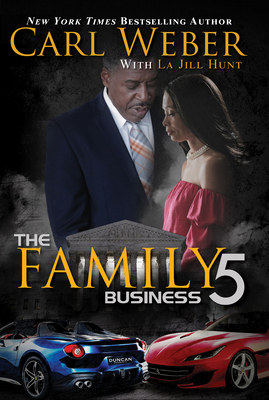 Description
---
New York Times bestselling author Carl Weber and La Jill Hunt return with a story of love, betrayal and redemption in the next addition in the wildly popular Family Business series.

LC Duncan, patriarch and leader of the Duncan clan, has just been arrested on federal RICO charges stemming from a child pornography and human trafficking ring he's been accused of secretly running. LC has done his share of dirt over the years, but kiddie porn and child prostitution are not his style—or so he says. The evidence is overwhelming, and even his beloved wife Chippy is starting to have her doubts.  

Determined to clear their father's name Vegas, Junior, and Rio set out to find out the truth. They will soon find out that sometimes, the truth can be worse than the lie you've been told.

Meanwhile, the beautiful Paris Duncan is haunted by recurring nightmares of her true love, Niles Monroe. She blew up his private plane when he became a threat to her family; however, there have been signs that suggest he may still be alive. Could LC's arrest have something to do with Niles' reappearance in her life? Or is it her son, Jordan, that Niles is really interested in?

Get ready for another roller coaster ride with the Duncan family.
About the Author
---
Carl Weber is the New York Times bestselling author of The Preacher's Son, So You Call Yourself a Man, Something on the Side, Up to No Good, Big Girls Do Cry, Torn Between Two Lovers, and She Ain't the One. He is the Publisher and Editorial Director of Urban Books and CEO of Urban Books Media, which has produced The Man in 3B and the Preacher's Son based on two of his bestselling novels. The Family Business film is currently in production. His Web site is carlweber.net. 

La Jill Hunt is a native of Mobile, AL who burst onto the literary scene in 2003 with her debut novel, Drama Queen. The memorable characters she created and the entertaining stories she told quickly drew bestselling success and a following of fans, young and old. Although known for her urban chick-lit novels, she has also contributed to the street anthology series Around the Way Girls, and penned an urban romance, Another Sad Love Song. Her erotic short story, Catch 22, is available as a digital download. Currently residing in Virginia Beach, La Jill enjoys spending time with her daughters, family, and friends.