You are here
Back to top
Now Lila Knows (Hardcover)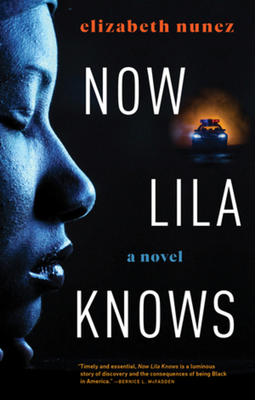 $26.95

Usually Ships in 1-5 Days
Description
---
Caribbean professor Lila Bonnard arrives in Vermont for a short-term teaching position and is forced to confront the terrible legacy of American (in)justice
"The racial politics of a small town in Vermont, as seen through Lila's eyes, provides an illuminating counterplay between Caribbean and American Blackness."
--Publishers Weekly
"As a portrait of Lila's political and racial awakening, the novel is a grand success."
--Kirkus Reviews
"I fell deep, hard and fast into this book. The very first sentence slices clean and that energy continues throughout the entire story. I am amazed at Elizabeth Nunez's capacity to paint for the reader not only Lila's personal and political lives but her literary life, too."
--Write or Die Mag, 2022 Staff Pick
Lila Bonnard has left her island home in the Caribbean to join the faculty as a visiting professor at Mayfield College in a small Vermont town. On her way from the airport to Mayfield, Lila witnesses the fatal shooting of a Black man by the police. It turns out that the victim was a professor at Mayfield, and was giving CPR to a white woman who was on the verge of an opioid overdose.
The two Black faculty and a Black administrator in the otherwise all-white college expect Lila to be a witness
in the case against the police. Unfortunately, Lila fears that in the current hostile political climate against immigrants of color she may jeopardize her position at the college by speaking out, and her fianc advises her to remain neutral.
Now Lila Knows is a gripping story that explores our obligation to act when confronted with the unfair treatment of fellow human beings. A page-turner with universal resonance, this novel will leave readers rethinking the meaning of love and empathy.
About the Author
---
Elizabeth Nunez is the award-winning author of a memoir and nine novels, four of them selected as New York Times Editors' Choices. Anna In-Between won the PEN Oakland/Josephine Miles Award and was long-listed for an IMPAC Dublin International Literary Award. Nunez also received the 2015 Hurston/Wright Legacy Award in nonfiction for Not for Everyday Use; an American Book Award for Bruised Hibiscus; and a NALIS Lifetime Literary Award from the Trinidad and Tobago National Library. Her other novels are: Even in Paradise, Boundaries, Prospero's Daughter, Beyond the Limbo Silence, Grace, Discretion, and When Rocks Dance. She is a cofounder of the National Black Writers Conference and executive producer of the CUNY-TV series Black Writers in America. Nunez is a Distinguished Professor at Hunter College, where she teaches courses on fiction writing and Caribbean women writers. She divides her time between Amityville and Brooklyn, New York.