You are here
Back to top
The Holy Koran of the Moorish Science Temple of America (Paperback)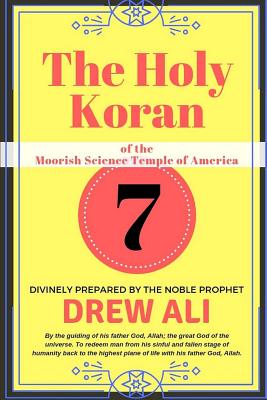 $11.64
Usually Ships in 1-5 Days
Description
---
The Holy Koran of the Moorish Science Temple of America (often called the The Circle 7 Koran / Circle Seven Quran), teaches that all Blacks are of Moorish origins but have had their Muslim identity taken away through slavery and racial segregation. The Prophet Noble Drew Ali advocated a return to the Islam of our Moorish forefathers, offering redemption from racial oppression by reclaiming our historical spiritual heritage. While incorporating Islamic rituals and practices, this was truly a new American Koran.
The Moorish Science Temple of America
required rigorous obedience to the Prophet's regulations. The group's sacred text was the Holy Koran --
Circle 7 Koran / Circle Seven Quran
-- which was distinct from the Qurʾān of orthodox Islam, and which members considered to have been divinely revealed by Allah to the Noble Drew Ali. The Moorish Science Temple Koran includes:
a narrative spanning from the Fall of Man to the Resurrection of Jesus
moral instructions by Noble Drew Ali
a prophecy of the imminent "uplift of fallen humanity."
The Prophet Ali combined elements of diverse traditions to bring a message of personal transformation through historical education, racial pride and spiritual uplift. His doctrine affirms a strong African-American identity, and promotes civic involvement.
⑦⑦⑦