You are here
Back to top
Business and Society: A Critical Introduction (Hardcover)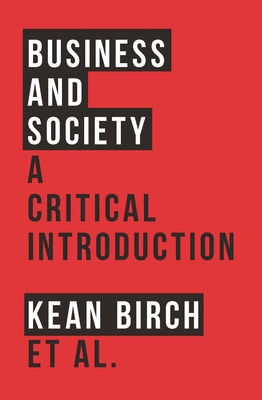 Description
---
Our society is dominated by corporations that employ us, sell to us, and influence local, national, and global agendas. Though we may take for granted the role of corporate business and capitalism in our day to day lives and assume it is inescapable, this hasn't always been the case. Business and Society provides a broad historical analysis of the spread of capitalism and the foundation of the corporate revolution in the late nineteenth century, while examining the challenges of regulation and ethics in contemporary business. In addition, it examines how corporate power and capitalism might be resisted, outlining a range of alternatives, from the social economy to new forms of open access or commons ownership.
 
Written in a clear, accessible style, Business and Society offers an approachable introduction to  a variety of perspectives from sociological, geographical, heterodox economic, ethical, political, legal and historical contexts.
 
About the Author
---
Kean Birch is assistant professor, J. J. McMurtry is associate professor, and Darryl Reed teaches, all in the business and society program at York University, Canada. Caroline Hossein is sessional assistant professor of business and society at York University, Canada, where Mark Peacock is associate professor in the Department of Social Science. Alberto Salazar is assistant professor in the Department of Law and Legal Studies at Carleton University, Canada.Sonya Scott is sessional assistant professor in the program of business &and society at York University, Canada, where Richard Wellen is associate professor.
Praise For…
---
"The ideal user's guide to the modern world and how we got here. It untangles the thicket of politics and corporate power and gives readers cogent intellectual arguments and an inspiring message that change is possible and already happening."
— Katherine Trebeck, Oxfam GB
"Offers a wide-ranging introductory interdisciplinary text for the study of the modern world. Rich in conceptual debate, it provides students with incisive analysis and criticism. This is the antidote to the anodyne business school textbook."
— Liam Campling, Queen Mary University of London
"In this tremendous text, Kean Birch and his colleagues show us why we must understand economic activity as embedded in political decisions. This book should be compulsory reading for anyone who wants to understand how another business world is possible."
— Martin Parker, University of Leicester
"A most serviceable compass, timely and effective, for a time in which we are constantly told that society should be treated as just another type of business."
— Fabian Muniesa, École des Mines de Paris
"A fresh, topical and highly engaging introduction to the vital issues surrounding the business world. There is much food for thought in this book: every student of business should read it."
— Geoffrey Hodgson, author of Conceptualizing Capitalism: Institutions, Evolution, Future
"Goes beyond conventional accounts to critically expose the complex realities of the relationship between business and society. With clarity and originality, the authors illuminate the role of business for shaping society both in the past and present."
— Sara Gorgoni, University of Greenwich